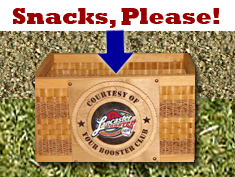 Need snack ideas? Try healthy, individually-packaged snacks -- like granola bars, whole grain chips, peanut butter crackers, cookies (Double-Stuf OREOS are a favorite), candy bars, etc...


Time to Stock Up for the 2013 Season!
It's that time of year again!

Now and throughout the season, grab an extra package of snacks when you go to the grocery store or Costco - and then when you come to a game, drop them at the Box Office, labeled for the Club's Snack Basket.
THANK YOU!